WILMER AMINA CARTER HIGH SCHOOL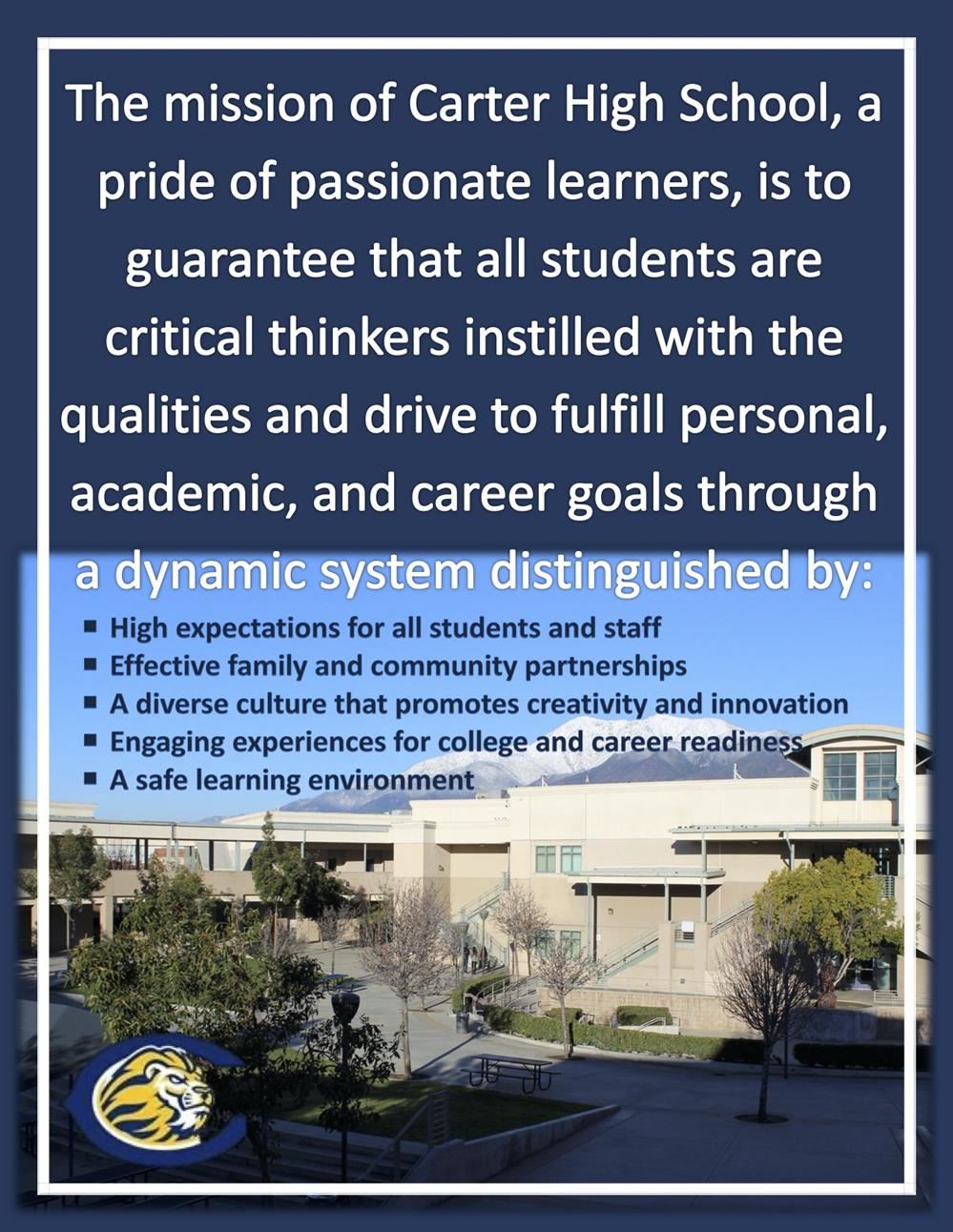 Wilmer Amina Carter High School opened its doors to students and the community of Rialto in 2004. The faculty and staff of Carter High School have been and continue to be passionate in our commitment to create a safe and caring learning environment to support the achievement and success of every learner who comes to us. Since our review visit in 2014, we have benefited from the insights provided by our Visiting Committee and have found the Focus on Learning Self-Study process extremely useful as we re-examine our purpose, align our goals, gauge our progress, remedy our critical areas of need, and plan our future.

Carter High School is the newest and third comprehensive high school in the Rialto Unified School District and is currently serving approximately 2,400 students. The school opened to students on August 31, 2004, and it is located across the street from Birdsall Park. The two-story facility has eighteen buildings and includes a football stadium that seats over 2,500, a performing arts theatre that accommodates over 800, a multipurpose room (MPR) that accommodates over 600, and a three full-court gymnasium with the capacity for 2,400 spectators. Carter High School also has a joint-use County Public Library on its campus that is open for students to use throughout the school day and Monday through Thursday from 3:00 p.m. to 8:00 p.m. and on Saturdays from 8:00 a.m. to 4:00 p.m. In addition, CHS has a dedicated science building that includes four full science labs for hands-on lessons. The school has five full computer labs and a mobile computer lab that is used for English Learner (EL) instruction in the ELD III classroom. Each classroom on campus is equipped with a ceiling mounted LCD projector that interfaces with the teacher's computer to display PowerPoint presentations, student work, videos, CDs, and the Internet. Additionally, most classrooms are equipped with at least two computers. One computer is for the teacher's use and the other(s) are for student use.

Carter High School has a present population of approximately 2,400 students. The student populations are Hispanic/Latino (72%), African American (18%), Caucasian (6%), and Asian, and other ethnic groups (4%). In order for the district to balance out the school's student numbers among the three high schools, Carter High School boundaries draw students from the southern portion of the city, as well as from the central and northwestern sections of the city.