The Parent Teacher Association (PTA) at Trapp Elementary School works very hard to make many great things happen for our students.

La Asociación de Padres y Maestros (PTA) de la Escuela Primaria Trapp trabaja muy duro para hacer que sucedan muchas cosas maravillosas para nuestros estudiantes.

There are many opportunities for you to participate in the PTA and its various activities throughout the year. However, joining the PTA does not obligate you to participate, if your schedule does not permit. PTA provides many extras for our school, such as awards, ribbons, and certificates, Trapp folders, assemblies, fifth grade activities, study trips, the Junior Olympics, Red Ribbon Week activities, and much more. We would greatly appreciate any level of participation during these cultural events.

Hay muchas oportunidades para que usted participe en la PTA y sus diversas actividades durante el año. Sin embargo, unirse a la PTA no lo obliga a participar, si su horario no lo permite. La PTA proporciona muchos extras para nuestra escuela, como premios, cintas y certificados, carpetas Trapp, asambleas, actividades de quinto grado, viajes de estudio, las Olimpiadas Juveniles, actividades de la Semana del Listón Rojo y mucho más. Agradeceríamos enormemente cualquier nivel de participación durante estos eventos culturales.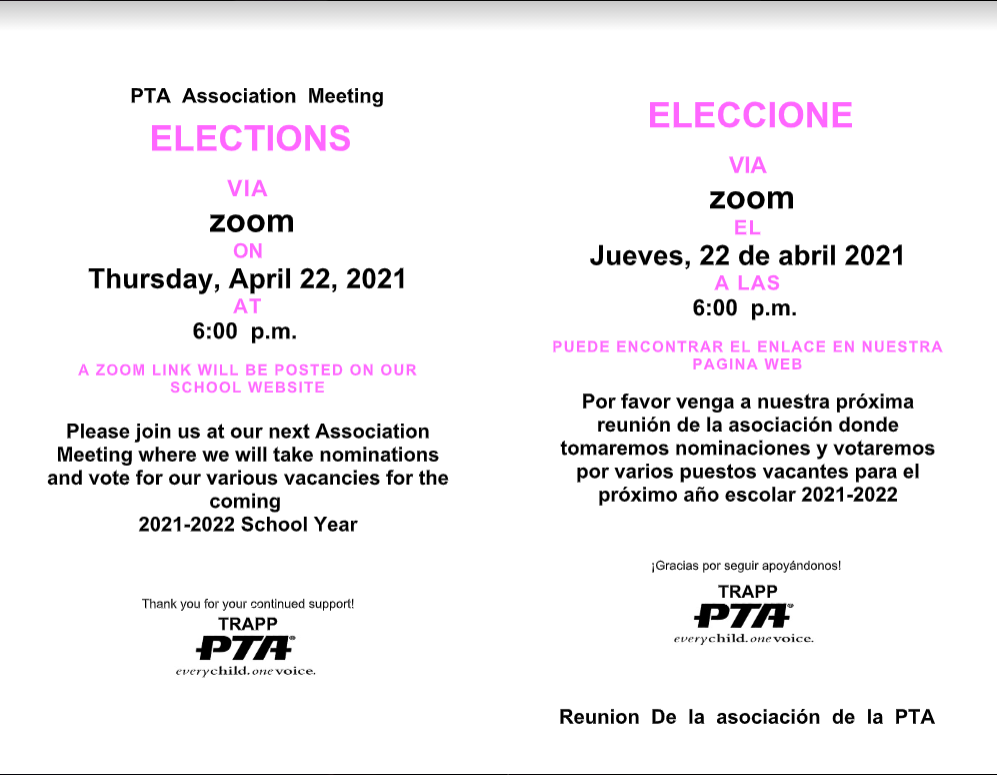 PTA Members Miembros de la PTA
PTA Meetings
The Trapp PTA Board meetings are held at Trapp on the dates and times listed below. Meeting dates and times are subject to change. Please contact the office to confirm meeting times listed below.

Las reuniones de la Junta de la PTA de Trapp se llevan a cabo en Trapp en las fechas y horas que se indican a continuación. Las fechas y horarios de las reuniones están sujetas a cambios. Comuníquese con la oficina para confirmar los horarios de las reuniones que se enumeran a continuación.

All meetings start at 6:00 p.m. Every second Tuesday of the month.

Todas las reuniones comienzan a las 6:00 p.m. Cada segundo martes del mes.