AAPAC is a parent advisory council consisting of parents, Rialto USD staff members, and community members with the goal to empower
the lives of African American scholars and parents/families by providing the knowledge and skills necessary to advocate for a high quality educational experience within the school communities of Fitzgerald Elementary, Kordyak Elementary, Kucera Middle and Trapp Elementary Schools.

AAPAC es un consejo asesor de padres compuesto por padres, miembros del personal de Rialto USD y miembros de la comunidad con el objetivo de empodera la vida de los estudiantes afroamericanos y los padres / familias al proporcionar el conocimiento y las habilidades necesarias para abogar por una experiencia educativa de alta calidad dentro de las comunidades escolares de las escuelas primarias Fitzgerald, Kordyak, Kucera Middle y Trapp.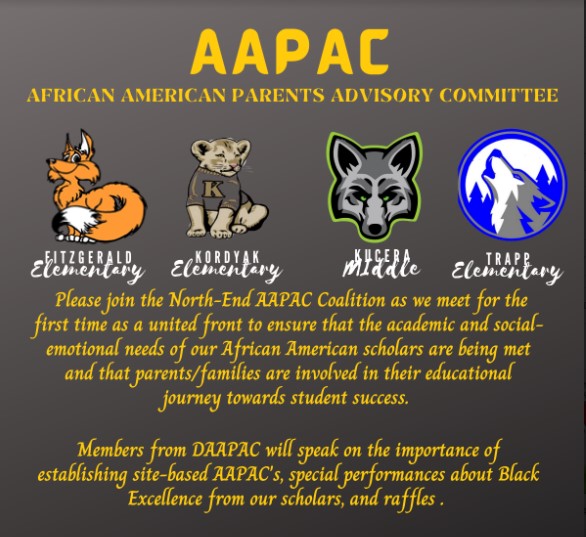 For all live workshops, you will need to DOWNLOAD the ZOOM App to participate in the workshops before logging in!

Para todos los talleres en vivo, deberá DESCARGAR la aplicación ZOOM para participar en los talleres antes de iniciar sesión!
If link doesn't work, put in this information when you downloaded Zoom

Meeting ID: 920 6900 0425

Passcode: 0Bg3zz





Si el enlace no funciona, ingrese esta información cuando descargó Zoom

ID de reunión: 920 6900 0425

Código de acceso: 0Bg3zz